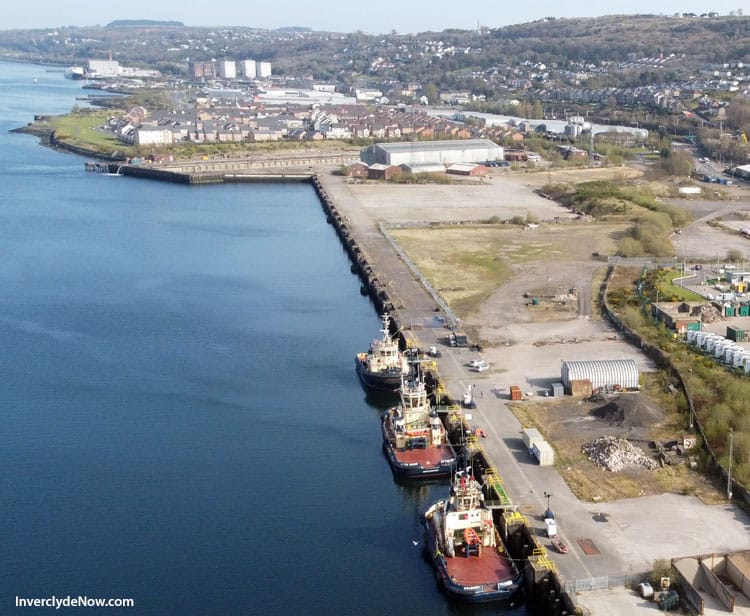 'LIVE inquiries' from companies interested in locating at Inchgreen could lead to hundreds of jobs and tens of millions of pounds of investment at the site in the next few years, according to a new report.
There is 'stated and defined interest in a market-ready serviced Inchgreen site' from several firms including the Scottish Salmon Company which wants to develop a £35million fish processing, research and development and training facility.
A ship and yacht manufacturer is also interested, as is a marine engineering company, and the Clyde Fishermen's Association for a headquarters housing office, training and education facilities.
Around £10million from Glasgow City Deal is needed to get the site ready and councillors on the City Deal cabinet are due to decide on Tuesday on whether to approve the outline business case so the project can progress to the next stage.
A report by officials states: "Development of Inchgreen will enable the redevelopment of a west Scotland Clyde waterfront site with deep water access and 11.50 hectares of development space.
"Intervention to deliver this will involve site preparation, site clearance and associated remediation works together with investment associated with upgrading of infrastructure (marine/access/services and utilities) and contribution to abnormal costs associated with the delivery of an advance building unit (12,100 square metres) to create a market-ready inward investment.
"This will support investment of circa £35million (construction and fit-out) by Scottish Salmon Company."
It's hoped work can start early next year with 300 jobs created by 2024.
The report continues: "Infrastructure investment is required to bring the Inchgreen site back into economically productive use. Fundamental site constraints reflecting historic land-use activity, and the level of investment required to develop the site adversely impact on viability.
"The investment provided through the City Deal will overcome site constraints and allow the site to realise its potential, unlock commercial value, and support inclusive economic growth.
"Outcomes will include vacant/under-utilised land remediated, jobs and economic growth in an area which suffer from multi-faceted deprivation.
"The site sits immediately adjacent to the Inchgreen Dry Dock (strategic national facility) with leaseholders within the Inchgreen site offered preferential rates for access to the dry dock."
The project will be run as a joint venture between Inverclyde Council and major landowner Clydeport Operations Limited, on a 75-year lease.