AROUND half of the properties at Port Glasgow's rundown Clune Park estate are now owned by Inverclyde Council, but talks with two major landlords have ended without success, councillors have been told.
The council is trying to improve the area after various reports highlighted the need for significant intervention given the poor condition of the housing. The strategy is to acquire the 430 flats, leading to demolition and eventual regeneration.
In an attempt to make significant acquisitions, the District Valuer was appointed in August 2021 to provide an up-to-date market value, and investment value, of the remaining premises.
The District Valuer was to then carry out negotiations with landlords with a portfolio of 20 properties. A further £1million was approved towards the project.
A report by officials states: "In January 2017, Inverclyde Council owned 28 properties in the Clune Park Estate. This had increased to 39 by November 2018 and to 197 in August 2021.
"The substantial increase is largely, but not entirely, as a result of the purchase by the council of the portfolio interests of two landlords.
"The council now owns approximately 45 per cent of all properties in the estate. Negotiations, sometimes fraught, had taken place with the remaining portfolio landlords on the same terms however they had broken off from these negotiations.
"The owners of all of the remaining properties have been written to. To date there have been 22 positive responses indicating a willingness to sell and these transactions are being progressed."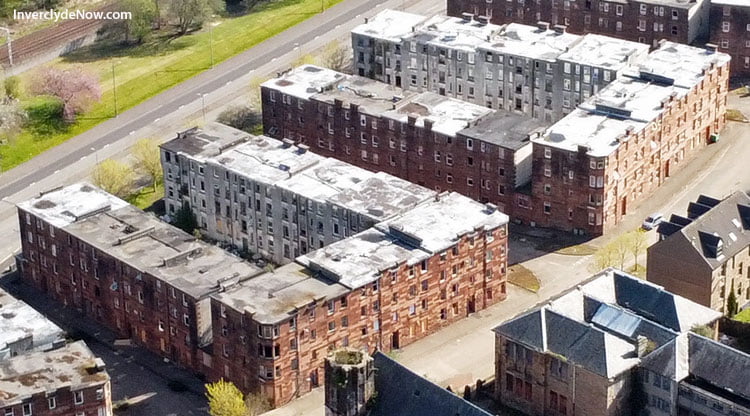 The report continues: "It has been apparent that a number of owners have not been contacted through moving address and a search process is underway to try to contact them."
"It is proposed to continue both portfolio and individual landlord negotiations/acquisitions for a period up until 7 February 2022 to exhaust all opportunities for acquisition and provide a further update paper to the March committee."
The Clune Park Estate, in the form of five horseshoe shaped backcourts was constructed between 1918 and 1920 by a local shipbuilder to provide housing for the workforce.
In 1975 Lithgows disposed of the flats in varying portfolios to a number of investment companies. Subsequent disposals spread the ownership of the estate amongst a large number of individual owners and latterly a number of private sector landlords with varying sizes of portfolios.